No
University
Types of Scholarships Offered
Quantity Offered
Description
Closing Date
1
The University of Technology Sydney
University of Technology Sydney Application Form
Masters by coursework
(Education; Communication or International Studies)
2
Tuition fee only, approx AUD 32,000 per year depending on course
11/11/11 for SEM 1, 2012 CLOSED

01/05/12 for SEM 2, 2012

2
Queensland University of Technology
Queensland University of Technology Application Form
Ph.D
2
Full tuition waiver for 3 years
30/11/11 CLOSED
3
Carnegie Mellon University
Carnegie Mellon University Application Form
Postgraduate (Masters Science in IT, Masters Science in Public Policy Mgmt)
4
Partial (50%) estimated at AUD34,000-40,000
31/10/11 for SEM 1, 2012 CLOSED

15/06/12 for SEM 2, 2012

4
RMIT University
RMIT University Application Form
Postgraduate Research (open)
1
Tuition fee only, up to AUD28,000 per annum
30/11/11 for SEM 1, 2012 CLOSED
5
Deakin University
i) Deakin University (Undergraduate) Application Form
ii) Deakin University (Postgraduate) Application Form
Undergraduate or Postgraduate (All coursework programs)
1
$625 per credit point for the duration of studies at Deakin, equates to AUD 5,000 per year
30/11/11 for UG SEM 1, 2012 CLOSED

30/04/12 for UG SEM 2, 2012

30/11/11 for PG SEM 1, 2012 CLOSED

6
University of Sunshine Coast
University of The Sunshine Coast Application Form
Undergraduate (All programs)
2
Tuition fee only, 1 year approx AUD18,000
30/11/11 for SEM 1, 2012 CLOSED
30/04/12 for SEM 2, 2012
PROCEDURES
It is COMPULSORY for all applicants to fill in the following forms before submission to IDP Education Australia Limited office in Malaysia:
The MACC Scholarship Application FORM 2012 for EXPRESSION OF INTEREST Download Here
The respective University's form that you are applying for the scholarship
IMPORTANT NOTE:

Applicants can apply for more than one scholarship at a time but will have to submit (email/fax/mail) The MACC Scholarship FORM 2012 form for each institution you are applying to.
e.g. If you apply for 5 scholarships at 3 universities, you will need to fill this form 3 times. Once your expression of interest form is received by IDP, you will be contacted by an IDP consultant who will assist you with the next step in your scholarship applications.
The MACC Scholarships Committee levies a RM50 administrative fee per scholarship.
e.g. If you apply for three scholarships, you will need to pay RM150. Payment by bank draft, money or postal order made payable to 'THE MALAYSIAN AUSTRALIAN ALUMNI COUNCIL' for the administrative fee. Or alternatively, bank in the amount to the MAAC Account No: 3105980801 at Public Bank Bhd. Cash are not accepted at IDP offices.
Applicants are advised to read carefully the requirements of respective university and submit the forms accordingly.
The MACC Scholarships Committee takes no responsibility for any errors or omissions by a prospective scholar in submitting this form or in not complying with any requirements attached specifically to each offered MACC Scholarship.
NO FAXES will be entertained! All forms with certified true copies certificates are to be submitted to:
Ms. Shoba Shanmugam – Senior Visa/Information Office
IDP Education Pty Ltd
6th Floor, West Block, Wisma Selangor Dredging,
Jalan Ampang, 50450 Kuala Lumpur, Malaysia.
Phone: + 60 3 21623755
Email: shoba.shanmugam@idp.com
IDP website: www.malaysia.idp.com
Opening Hours: Mon to Fri 0900 – 1700, Sat 0900 – 1300
Please note that IDP office is closed on the first Saturdays of each month.
The MACC Scholarship, supported by The Australian High Commission, organised by The MAAC.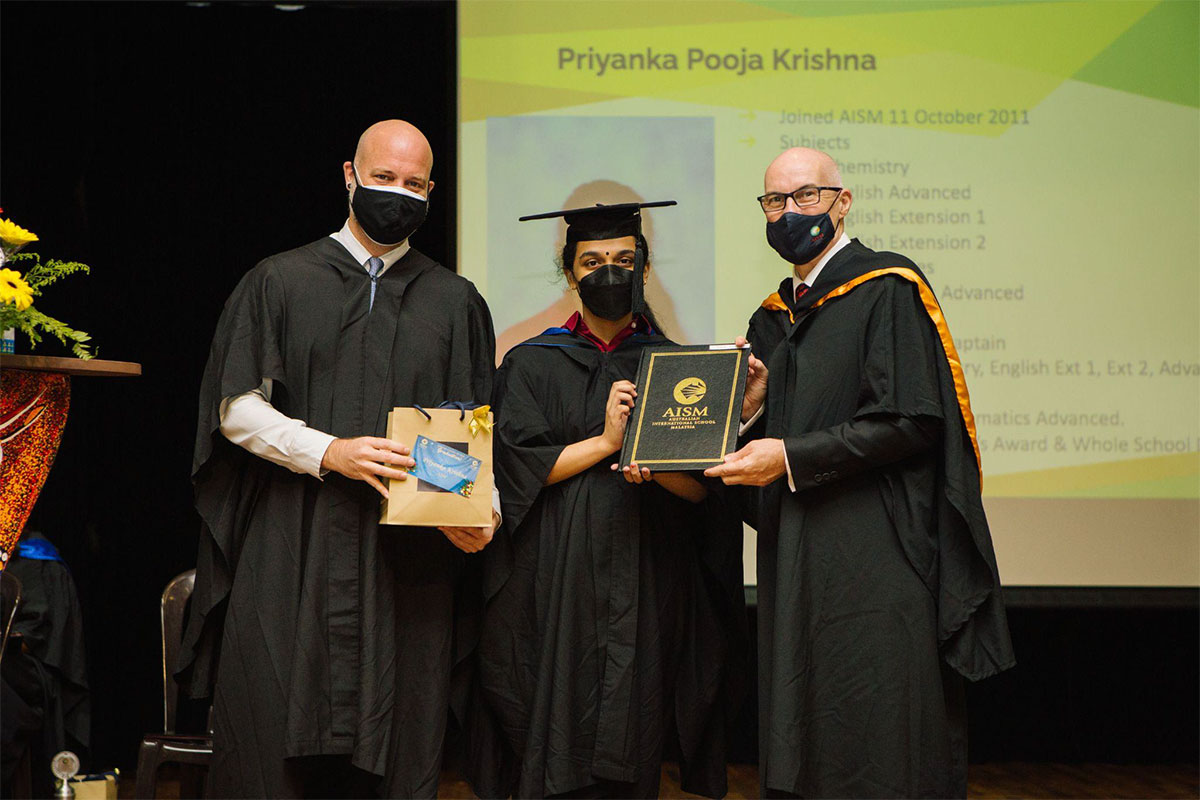 Academic performance at AISM is going from strength to strength. With the Australian curriculum being accepted by most top universities in the world, we wish all AISM graduates of 2021 all the best for their future. Being trained and taught in one of the most prestigious schools in Malaysia through an education framework that has prepared them to utilize their potential to the fullest, we believe we are preparing our students for success in whatever career path they choose to embark on.
If you would like your child to grow up in an environment conducive of growth mindset and holistic education, Australian International School Malaysia (AISM) is the right choice for you. With passionate teachers and outstanding academic track record, AISM is now offering amazing perks for admission during its Open Week, happening from 14-18 February 2022. Register now to receive –
100% rebate on application fee
100% admission fee waiver for Early Learning Centre and 80% for Junior, Middle and Senior School
Installment payment option
To know more about the Open Week and to register, do visit https://www.aism.edu.my/open-week