The MAAC recently attended the Queensland University Technology (QUT) Malaysia Business Networking & Alumni Dinner held on Monday, 24 August 2013.  The event was hosted by QUT's Vice-Chancellor, Professor Peter Coaldrake AO and was supported by the Australia Malaysia Business Council of Queensland (AMBQ).
At the dinner, Professor Coaldrake discussed developments in the Australian higher education system and shared his insights relevant to Australia's education initiatives in the Asia Pacific region.  Interesting to The MAAC was QUT's five-year institutional strategic plan. It stands at the centre of a planning process that is underpinned by the QUT Quality Framework and based on a continuous cycle of 'approached-deployment-results-improvement'.  Another impressive achievement is their current project – a new AUD$230 Million Science and Engineering Centre in the heart of their CBD Gardens Point Campus which will transform their world at QUT by bringing together teaching and research in science, technology, engineering and mathematics in a world leading model and dynamic community hub.
The QUT Malaysia Alumni Chapter is seeking input from alumni on the types of events and activities you would like to see run for QUT alumni in Malaysia. You may submit your ideas in by email to alumni@qut.edu.au directly and your ideas will be passed onto the committee.
QUT is also collecting short profiles and stories of their alumni around the world.  If you would like to share your story and a photo email alumni@qut.edu.au and further information on this project will be sent to you.
For social networking join the QUT Malaysia Alumni Chapter Facebook at
http://www.facebook.com/#!/groups/515034678552067/
For professional networking please join our QUT Alumni – South East Asia LinkedIn Group at
http://www.linkedin.com/groups?home=&gid=4836849
For more information on the Australia Malaysia Business Council of Queensland (AMBCQ) visit
http://www.ambc.org.au/qld-nt/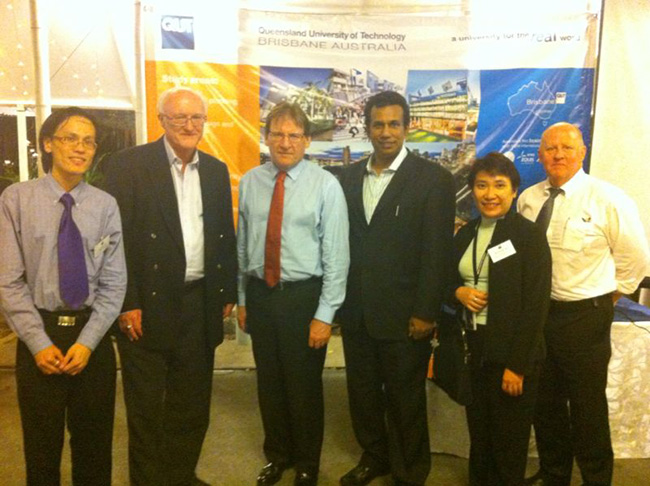 (L-R) Mr Adrian Ong, Vice President (Alumni Relations), The MAAC, H.E. Mr Miles Kupa, the Australian High Commissioner to Malaysia, Professor Peter Coaldrake AO, QUT Vice-Chancellor, Mr Christopher James, QUT Alumni Chapter President, Ms Pat PW Yeoh, President of The MAAC and Professor Scott Sheppard, QUT Deputy Vice-Chancellor (International & Development)