University of South Australia Alumni Malaysia Chapter Bowling Tournament 2017
University of South Australia (UniSA) Alumni Malaysia Chapter has organised their Annual Bowling Tournament on April 22, 2017, Saturday at Tropicana Golf & Country Resort, Sports Wing Bowling Alley from 2:30 pm to 4:30 pm. This invitation was not only open to UniSA Alumni members but also to non-members, MAAC Exco, their family members and friends. The purpose of this event was to foster relationship and networking among members, non-members and guests.
Each player had the opportunity to play 2 games and a total of 5 lanes were occupied. The 3 winners were determined by the top 3 highest scores from 2 games combined. The prizes were RM100, RM80 and RM50 shopping vouchers for 1st, 2nd & 3rd prize winners respectively.
There were a total of 17 participants consisting of 7 UniSA Members, 6 UniSA Non-members, 2 MAAC Exco member and 2 were family members of a member. Some of the members & MAAC Exco brought their family members to cheer & support the tournament.
We were a noisy bunch, having fun, lots of laughter, chit-chats and getting to know new friends. The children were excited and wanted to play along with their parents but there were no suitable bowling balls for them therefore, they were not allowed to play unfortunately.
Some of us were new to this game and struggled to hold the balls & throwing it. Some were good at this game and played like professional & scored high points. This year's bowling event recorded with the highest attendance compared with the last few tournaments.
The winners were Mr Aaron Mikhel Ng who won 1st prize, followed by Ms Syaza Syahirah Ahmad Zubir who won 2nd prize and 3rd prize was won by Mr Yap Ben Shiow. These prizes were given away by the President, Mr Colin Song and the Vice-President, Ms Joanne Ng.
UniSA Alumni Malaysia Chapter Group Photo
Photo taken with MAAC Exco (L to R) – Jonathan Goh, Nicole Lim, Helen Scott, Joanne Ng & Dr Wong Kim Hoe
1st Prize Winner – Aaron Mikhel Ng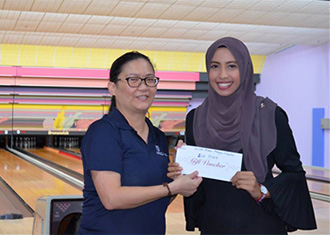 2nd Prize Winner – Syaza Syahirah Ahmad Zubir
3rd Prize Winner – Yap Ben Shiow