Aussie PM: Safe Down Under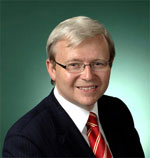 Australia has assured foreigners that it is a safe country for international students in spite of raging reports over hate crimes.
Noting that there are about 20,000 Malaysian students there, Australia Prime Minister Kevin Rudd said his government welcomed foreign students and took their security "very seriously".
Referring to the flare-up of racial tension in Australia especially against Indian students and which has been dubbed "curry bashings", he said, "In every city in the world, unfortunately, there are going to be acts of violence from time to time."
However, he explained that he was not playing down the issue, saying that "one act of violence is one too many; one death is one too many."
Rudd was here on Monday for a brief stopover en route to Europe. Both Prime Minister Datuk Seri Najib Tun Razak and he discussed bilateral issues during their one-hour meeting.
During an interview with two media organisations later, Rudd said Australia and Malaysia would work towards expanding areas in higher education and training.
For example, he said, both sides were looking to double the number of twinning schools to 24 in Victoria, Australia.
"The fact that I've been here twice in 12 months, with no particular crisis to deal with or problem to solve, shows we take our friendship with Malaysia very seriously," he said.
Rudd spoke of how Australia was "a nation of immigrants" where a large number of its people came from China, Vietnam, Indonesia, Malaysia, Indonesia and Sri Lanka.
"Apart from anything else, you have taught us how to eat well," the Mandarin-speaking Rudd quipped. His Mandarin has been touted as even better than one Taiwanese minister's.
A column in Sin Chew Daily last year commented that Rudd's level of Mandarin was "much more brilliant" than one Taiwanese minister.
Due to the immigration influence, Rudd said Australia now had "some decent food", such as Malaysian satay, Indonesia's nasi goreng (fried rice) and the best curries from south Asia, besides Japanese and Chinese food.
"We are multi-cultural and we are proud over it. We are not a perfect society but we are completely comfortable with our future in the region."