Australia-Malaysia Institute (AMI) Advisory Board visits Malaysia
The Australian High Commissioner to Malaysia, H.E. Mr Rod Smith PSM hosted a cocktail reception for the Australia-Malaysia Institute Advisory Board members on 18 March 2014. Advisory Board members in attendance included Dato Professor Lance Twomey AO – retired & former Vice Chancellor, Curtin University of Technology, Mr Christian Bennett – Vice President Government Relations, BHP Billiton, Ms Rechelle Hawkes OAM – General Manager of Football at Football West, Dr Gaik Cheng Khoo – Associate Professor, School of Modern Languages and Cultures, University of Nottingham Malaysia Campus, Ms Kathe Kirby – Executive Director, Asia Education Foundation and Mr Talal Yassine OAM – Founder and Managing Director of Crescent Wealth. Also in attendance was the Executive Officer of the AMI Secretariat, Sonja Weinberg.
It was such a privilege for The MAAC Executive Committee to meet them in person and to better understand the AMI and its objective in Malaysia. The AMI was established in 2005 to strengthen people-to-people and institutional links with Malaysia and to deepen mutual understanding and cooperation between Australia and Malaysia. The AMI is a wholly Australian initiative and is funded by the Department of Foreign Affairs and Trade (DFAT). The Institute works with institutions and individuals in Australia and Malaysia to achieve its objectives. The Institute also seeks to enter into strategic alliances with possible sponsors and partners to enhance its programs.
Each year, AMI calls for expressions of interest for the AMI General Grant Program. The objective of the Program is to provide financial assistance for outcome based projects and those that add value to AMI's objective. Other projects include the Excellence in Sports Grants Program which is a grant catered to a any sporting related institutions and the Australia – ASEAN Emerging Leasers Program. More information on AMI and its grants, application forms, guidelines and tips on making the grant application are available on www.dfat.gov.au/ami.
The MAAC team with the H.E Mr Rod Smith PSM (3rd from right) and Dato Professor Lance Twomey AO – retired & former Vice Chancellor, Curtin University of Technology (2nd from right)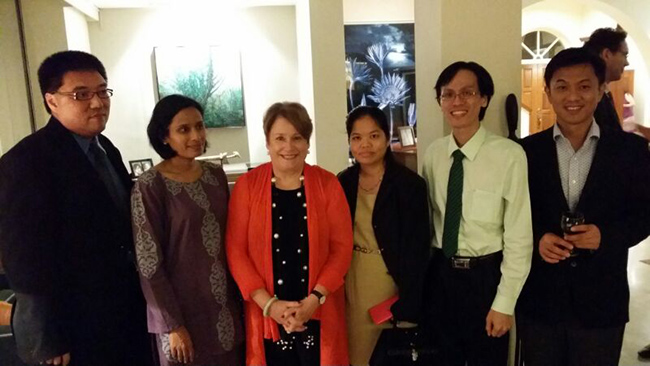 The MAAC team with Kathe Kirby (centre in red)