MAAC Australian Alumni Gala Dinner 2012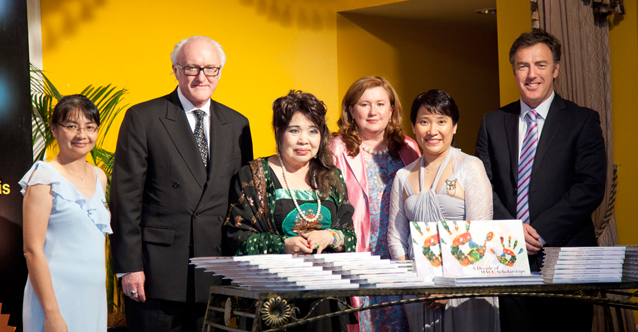 The Malaysian Australian Alumni Council (MAAC) celebrated the 10th Anniversary of the Malaysia Australia Colombo Plan Commemoration Scholarships also known as the MACC Scholarships, today at their annual Australian Alumni Gala Dinner held at the Ritz Carlton Hotel.
The celebration saw the launch of A Decade of MACC Scholarships, a coffee table book that commemorates the 10th Anniversary of the MAAC Scholarship Program, and tells the story of how the Colombo Plan inspired a group of Malaysian graduates of Australian universities to reciprocate Australia's contribution to Malaysia and documents its growth over the 10 years.  "The highlight of the coffee table book is the presentation of the exclusive profiles of 30 young and bright individuals who have been recipients of the MACC Scholarship over the years," said Ms Pat PW Yeoh, President of The MAAC.
The launch was officiated by H.E. Miles Kupa, the Australian High Commissioner to Malaysia, Puan Sri Datin Seri (Dr) Susan Cheah, Director of The Malaysia Australia Foundation (MAF) and Honorary Advisor to The MAAC, Ms Susan Kahwati, Senior Trade and Investment Commissioner of Australian Trade Commission, Ms Louise McSorley, Counselor (Education) of Australian Education International, Mr. Jason Todd, Country Director of IDP Education Malaysia and Ms Pat PW Yeoh.
The launch at the 3rd Australian Alumni Gala Dinner was also witnessed by over 300 Australian alumni including His Royal Highness Tuanku Syed Faizuddin Putra Ibni Tuanku Syed Sirajuddin Jamalullail and Her Royal Highness Tuanku Hajjah Lailatul Shahreen Dato' Akashah Khalil, Crown Prince and Princess of Perlis who are also Australia's La Trobe University alumni.
The MACC Scholarships, spearheaded and coordinated by The MAAC, was launched in 2001, with the first batch of scholarships awarded in 2002.  The objective of the MACC Scholarships is to provide Malaysian and Australian students the opportunity to experience diverse cultures through sponsored education.  It was built on the spirit of the Colombo Plan which enabled young Malaysians to study in Australia from the 1950s to the 1980s but it takes the Colombo Plan a step further by providing a two-way exchange of scholars between Malaysia and Australia.
Details of the MACC scholarships and all other Australian alumni in Malaysia information are available on www.emaac.org.